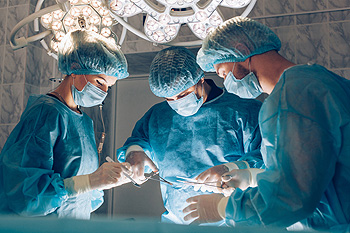 If you are getting ready to undergo surgery to correct a foot or ankle issue, it is important to be prepared and know what to expect. Store up on food and supplies, and set up a comfortable spot in your home with everything you'll need within arm's reach as you convalesce: your computer, phone, medicine, TV and remote, pillows, a foot elevation apparatus to reduce swelling, convenient access to ice packs, and more. Ask your podiatrist if you'll need a knee roller/walker, crutches or wheelchair. Place a shower stool and grab bars in your shower, and have a cast protector handy to keep your cast dry while showering. Ask your podiatrist what you need to do to help aid your recovery, and approximately when you may be able to return to work; it can take weeks, months, or sometimes longer to fully recover from foot or ankle surgery. Also, find out when you might be able to drive again, and make arrangements to get a Temporary Handicap placard prior to surgery. Ask your podiatrist about over-the-counter painkillers or if they will prescribe medication to help reduce swelling and pain after surgery. With proper planning and communication with your podiatrist, you can help make your recovery as smooth and successful as possible.
Foot surgery is sometimes necessary to treat a foot ailment. To learn more, contact one of our podiatrists of Lewis Wolstein, DPM, P.C. & Associates. Our doctors will assist you with all of your foot and ankle needs.
When Is Surgery Necessary?
Foot and ankle surgery is generally reserved for cases in which less invasive, conservative procedures have failed to alleviate the problem. Some of the cases in which surgery may be necessary include:
Removing foot deformities like bunions and bone spurs
Severe arthritis that has caused bone issues
Cosmetic reconstruction
What Types of Surgery Are There?
The type of surgery you receive will depend on the nature of the problem you have. Some of the possible surgeries include:
Bunionectomy for painful bunions
Surgical fusion for realignment of bones
Neuropathy decompression surgery to treat nerve damage
Benefits of Surgery
Although surgery is usually a last resort, it can provide more complete pain relief compared to non-surgical methods and may allow you to finally resume full activity.
Surgical techniques have also become increasingly sophisticated. Techniques like endoscopic surgery allow for smaller incisions and faster recovery times.
If you have any questions please feel free to contact our office located in Co-Op City, NY . We offer the newest diagnostic and treatment technologies for all your foot and ankle needs.
Read more about Foot Surgery